Welcome to NATSS
"…to provide the highest quality of service and the fairest prices to our customers throughout North America."
This statement related to tire breakdown service constitutes the first sentence of the NATSS Mission Statement.
North American Tire Service Solutions, LLC is the premier network of servicing tire dealers in the United States and Canada. Our network was founded by a group of tire dealers driven to deliver our customers the foremost tire breakdown service in North America. Our locator contains the most comprehensive listing of quality 24/7 tire breakdown service providers available.
The recently formed organization has 28 dealer members. Our breakdown service has the ability to provide your organization with emergency dispatch throughout the lower 48 of the United States and nearly all of Canada.
We urge you to try our dealer locator to find a service provider in your area.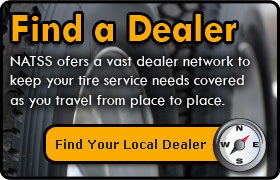 News, Articles and Events